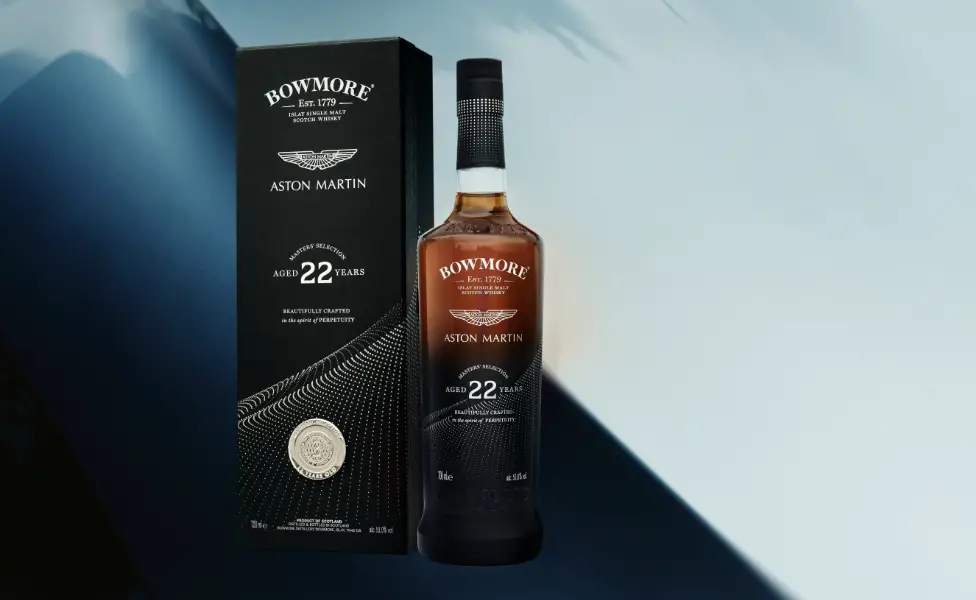 Bowmore® and Aston Martin announce the US debut of their newest bottle collaboration: Masters' Selection Third Edition
NEW YORK, NY – November 1, 2023 – Bowmore® Islay Single Malt Scotch is pleased to unveil the latest bottle in the storied collaboration with fellow iconic luxury brand partner, Aston Martin: Bowmore Masters' Selection Third Edition.
The 22-year-old single malt is crafted in the spirit of intentionality by both brands' creative masters: Bowmore Master Blender Ron Welsh and Aston Martin Chief Creative Officer Marek Reichman. It has been double matured in purposefully selected European Oak, and Oloroso Sherry seasoned casks along with an optimal mix of American Oak hogsheads. The result yields the definitively constant character of Bowmore.
Now available in the US for an SRP of $400 per 750-ml. bottle, Bowmore Masters' Selection Third Edition arrives to the US after a global rollout in markets including the UK, Germany, Canada, and China. Marking the fifth bottle collaboration in a series of marvellous releases since 2020, Masters' Selection Third Edition represents a partnership driven by a constancy, inherent in each of the Masters' own approach that comes to life, informed by beauty, knowledge, and inspiration.  Strength and depth unite, just as sweetness and intensity combine to create a powerfully rich and captivating symphony of flavors.
RonWelsh, Master Blender, Bowmore, said of the latest release: "In the creation of every individual Bowmore, we undertake an endless search for depth; of character, of flavour and with every step we capture the very essence of the past 240 years. This stunning whisky celebrates this defining constant which drives, inspires and immerses us in this quest. Working with Marek and his team has highlighted how this is fundamental to both our creative processes and outcomes.  It is my absolute pleasure to be able to work with Aston Martin as we challenge ourselves and our perceptions together, learning and growing as we go, this is without doubt the most exhilarating and rewarding of collaborations."
Crafted with consideration over 240 years, Bowmore has an inherent appreciation as to how each moment comes to bear on the character of the whisky, and how time past has shaped today.  Rooted in intentionality, Bowmore's whiskies are made with purpose, shaping every drop, adding depth and distinction of flavor to shape each single malt. It is this precise ethos which drives the collaboration: sharing the intention to manifest beautiful, timeless creations that define a collaborative legacy, with a firm eye on the future, inspiring what comes next.
For Aston Martin it is restless perpetuity which defines the ambition, the vision, and the focus in the creation of the world's most desirable, ultra-luxury British performance sportscars, capable of unimaginable feats of engineering and breath-taking performance.
Marek Reichman, Executive Vice President and Chief Creative Officer, Aston Martin, said, "Our quest is without compromise and could be called obsessive, but that is what makes us relentless in our approach. Like Ron and his team, we push the bespoke nature of our craft to the limits in our pursuit of perfection. We never stop short or settle for anything but the best to achieve the beauty which defines us. This whisky is testament to their passion, talent and human skill.  I remain eternally inspired by the whisky making process and believe this masterpiece of flavour creation perfectly captures the spirit of Aston Martin."
For more information, please visit:
Facebook.com/BOWMORE
Twitter.com/BOWMORE
Instagram.com/BOWMORE