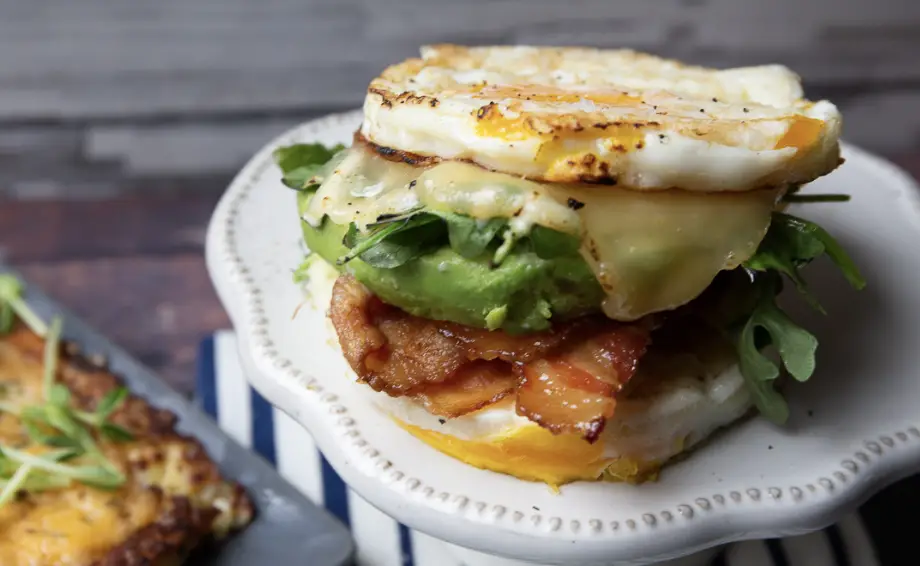 Indulge in Deliciousness: Crafting the Ultimate Keto Breakfast Sandwich
Embracing a ketogenic lifestyle doesn't mean sacrificing flavor and satisfaction, especially when it comes to your morning meal. If you're a fan of breakfast sandwiches but want to stay true to your keto journey, we've got you covered. In this blog post, we're unveiling the recipe for the best keto breakfast sandwich that will satisfy your taste buds, fuel your day, and keep you on track with your nutritional goals.
The Keto Breakfast Sandwich: A Flavorful Twist on a Classic
Ingredients:
For the "Bread":
2 large eggs
2 tbsp almond flour
1/2 tsp baking powder
Pinch of salt
For the Filling:
2 slices of bacon or turkey bacon
1 large egg
1 slice of cheddar cheese
Sliced avocado
Fresh spinach or arugula
Optional Additions:
Sliced tomato
Sautéed mushrooms
Sliced red onion
Instructions:
Prepare the "Bread": In a bowl, whisk together the eggs, almond flour, baking powder, and a pinch of salt. Heat a non-stick skillet over medium heat and pour half of the mixture into a circular shape, similar to the size of a sandwich. Cook until the edges are set and the middle is no longer runny. Carefully flip and cook for an additional 1-2 minutes. Repeat for the second "bread" slice.
Cook the Bacon: While your "bread" is cooking, prepare your bacon in the skillet until crispy. Remove and place on a paper towel to drain excess grease.
Fry the Egg: In the same skillet, cook the egg to your desired level of doneness. If you prefer a runny yolk, cook for about 2-3 minutes. For a firmer yolk, cook for 4-5 minutes.
Assemble the Sandwich: Place one "bread" slice on a plate. Top with a slice of cheddar cheese, the cooked egg, bacon slices, avocado slices, and a handful of fresh spinach or arugula. Add any optional additions you desire.
Top It Off: Place the second "bread" slice on top to create your keto breakfast sandwich masterpiece.
Why This is the Ultimate Keto Breakfast Sandwich:
Low-Carb "Bread": The almond flour-based "bread" offers a satisfying texture and taste while keeping the carb count low.
Healthy Fats: Avocado provides healthy fats that are a cornerstone of the keto diet, contributing to satiety and overall well-being.
Quality Protein: Eggs and bacon provide protein to keep you full and energized throughout the morning.
Nutrient-Rich Greens: Fresh spinach or arugula adds a burst of vitamins and minerals to start your day on the right foot.
Customizable: You can easily customize this sandwich to your preferences by adding or omitting ingredients as desired.
In Conclusion
Indulging in a delicious keto breakfast sandwich doesn't require compromising on your nutritional goals. With this easy-to-follow recipe, you can relish every bite while staying in alignment with your keto lifestyle. This morning delight is not just a meal; it's a culinary masterpiece that showcases the creativity and flavor that the keto diet can offer. Enjoy the combination of textures, flavors, and nourishing ingredients as you savor the best keto breakfast sandwich you've ever had.