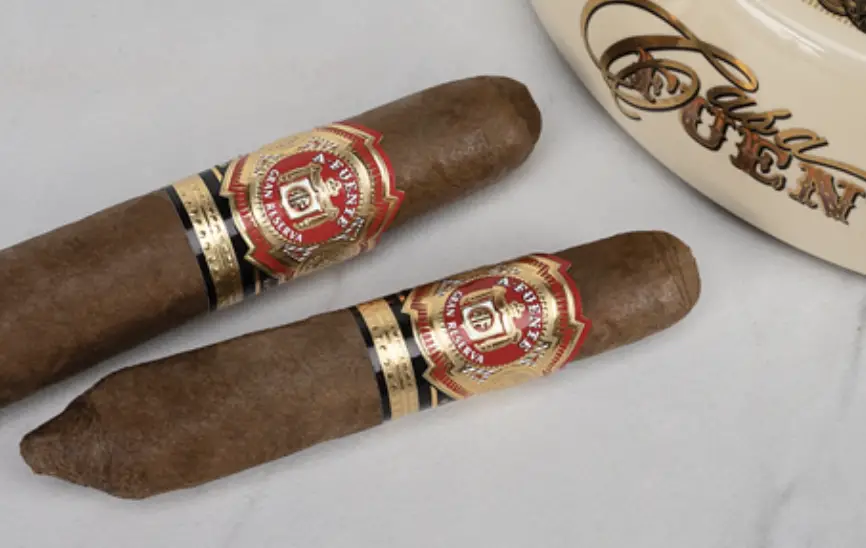 The Ultimate Pleasure: Top 5 Cigars Under $15 for an Unforgettable Smoke
Finding the perfect cigar doesn't always require breaking the bank. The world of premium cigars offers a delightful array of options that can deliver an unforgettable smoking experience without stretching your budget. In this blog post, we've curated a list of the top 5 cigars under $15, each offering a unique blend of flavors, construction, and overall enjoyment. Let's explore these affordable gems and discover the winner that stands out as the ultimate pleasure for cigar enthusiasts.
Arturo Fuente Hemingway Short Story
Known for its exceptional craftsmanship, the Arturo Fuente Hemingway Short Story is a true classic that consistently pleases aficionados. This medium-bodied cigar features a delicate Cameroon wrapper, which imparts a perfect balance of spice and sweetness. With notes of cedar, nuts, and a hint of coffee, the Hemingway Short Story delivers a delightful 30-40 minute smoke, ideal for any occasion.
Oliva Serie O
A beloved cigar amongst enthusiasts, the Oliva Serie O is a Nicaraguan gem that impresses with its affordable price point and rich flavors. Wrapped in a dark and oily sun-grown Habano leaf, this medium to full-bodied cigar delivers a complex profile with notes of cocoa, espresso, and a subtle touch of pepper. The Oliva Serie O offers a satisfying 60-75 minute smoke, making it a fantastic value for its price.
CAO Brazilia
For those seeking a cigar with a distinct and captivating flavor profile, the CAO Brazilia is a top contender. This medium to full-bodied cigar features a dark Brazilian wrapper and Nicaraguan filler, combining to create a flavor bomb of coffee, chocolate, and a natural sweetness. With a well-constructed burn and an average smoke time of 45-60 minutes, the CAO Brazilia is a crowd-pleaser.
Perdomo 10th Anniversary Champagne
If you enjoy milder cigars with a touch of elegance, the Perdomo 10th Anniversary Champagne is an excellent choice. Encased in a smooth and creamy Connecticut wrapper, this cigar offers a mellow smoking experience with notes of oak, almonds, and a hint of vanilla. The Perdomo 10th Anniversary Champagne provides a relaxing 45-60 minute smoke, perfect for unwinding after a long day.
Rocky Patel Vintage 1999 Connecticut
Rounding out our list is the Rocky Patel Vintage 1999 Connecticut, a beloved cigar with a classic taste. Featuring a silky Connecticut wrapper and Dominican and Nicaraguan fillers, this mellow to medium-bodied cigar delights the palate with flavors of cream, cedar, and a subtle spice. With an excellent draw and an average smoke time of 50-65 minutes, this cigar offers exceptional value.
The Winner: Arturo Fuente Hemingway Short Story
After careful consideration, the Arturo Fuente Hemingway Short Story emerges as the ultimate pleasure among the top 5 cigars under $15. Its impeccable craftsmanship, unique flavor profile, and relatively short smoke time make it an ideal choice for both novice and experienced cigar enthusiasts alike. The combination of a smooth Cameroon wrapper with notes of cedar, nuts, and coffee delivers a delightful smoking experience that is both satisfying and unforgettable.
Conclusion
Experiencing the world of premium cigars need not be an expensive endeavor. With the diverse selection of top-notch cigars available under $15, you can indulge in a remarkable smoking experience without breaking the bank. From the Arturo Fuente Hemingway Short Story to the Oliva Serie O and the CAO Brazilia, each cigar on this list offers its unique charm and flavor profile.
Remember, the pleasure of a cigar lies not in its price tag but in the enjoyment it brings to your senses. So, gather your favorites from this list, and embark on an unforgettable journey into the world of affordable luxury and relaxation. Cheers to savoring the simple pleasures in life!