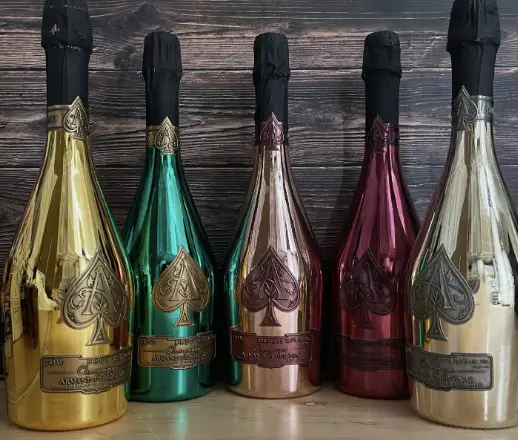 Ace of Spades Champagne: The Iconic Symbol of Luxury and Prestige
When it comes to the world of Champagne, one name stands out as the ultimate symbol of luxury and prestige – Ace of Spades Champagne. Also known as "Armand de Brignac," this exquisite champagne has become synonymous with opulence, exclusivity, and unparalleled quality. In this blog post, we'll take a deep dive into the captivating story behind Ace of Spades Champagne, its remarkable craftsmanship, and its allure as the drink of choice for discerning connoisseurs and celebrities alike.
The Birth of a Legend:
The story of Ace of Spades Champagne began with the visionary winemaker Jean-Jacques Cattier, who founded the Cattier House in the Montagne de Reims region of Champagne, France, in 1763. The Cattier family has continued the tradition of crafting exceptional champagnes for generations, and it was the ambition of the current patriarch, Jean-Jacques' great-great-grandson, that would eventually lead to the creation of a truly iconic champagne.
Craftsmanship and Excellence:
What sets Ace of Spades Champagne apart is its unwavering commitment to craftsmanship and excellence. From the vineyards to the cellars, every step of the production process is meticulously overseen by the Cattier family, ensuring that only the finest grapes and the most exquisite blending techniques are employed.
The Prestigious Assemblage:
Ace of Spades Champagne is a blend of exceptional grape varieties, predominantly Pinot Noir, Pinot Meunier, and Chardonnay, sourced from some of the most prestigious vineyards in the Champagne region. The grapes are hand-harvested and pressed with utmost care, and the resulting base wines are meticulously blended to achieve the perfect balance of flavors.
The Iconic Bottle:
Ace of Spades Champagne is elegantly presented in a distinctive metallic bottle, adorned with an ace of spades insignia, a symbol of good fortune and success. The luxurious packaging, coupled with the champagne's reputation, has made it a symbol of status and sophistication.
Celebrities' Favorite:
Ace of Spades Champagne has gained a cult following among celebrities, musicians, and high-profile personalities. It has been featured in music videos, adorned the tables at exclusive events, and become the champagne of choice for celebrations in the world of entertainment and luxury.
Expressions of Opulence:
Ace of Spades Champagne offers a range of expressions to cater to different palates and occasions:
Brut Gold: The flagship expression, Brut Gold, boasts a rich and complex flavor profile, with notes of ripe fruit, brioche, and a creamy finish.
Rosé: The Rosé variation is a sensual and fruity champagne with hints of red berries and a delicate salmon pink hue.
Blanc de Blancs: This expression is a tribute to Chardonnay, offering a refreshing and elegant champagne with citrus and floral notes.
Demipure: Demipure is a low-dosage champagne, delivering a crisp and dry taste that highlights the natural freshness of the grapes.
The Ace of Spades Experience:
Savoring Ace of Spades Champagne is a sensory journey that transports you to the pinnacle of luxury. Whether enjoyed as a celebration of success, an accompaniment to a lavish dinner, or a gift to mark a special occasion, Ace of Spades Champagne elevates any moment into a cherished memory.
Conclusion:
Ace of Spades Champagne, with its rich history, meticulous craftsmanship, and undeniable allure, embodies the essence of luxury and prestige in the world of champagne. From its iconic bottle to its exceptional flavor profiles, every aspect of Ace of Spades Champagne exemplifies the commitment to excellence that defines a legendary brand. So, raise a glass of this exceptional champagne and toast to the finest things in life, celebrating the success and joy that come with savoring the very best. Cheers to Ace of Spades Champagne – the epitome of elegance, taste, and extravagance!